Sample Online Exemption Filing Receipt
The Online Exemption Filing Receipt lists the exemption(s) applied for and provides a list of supporting documents (if any) that were not uploaded during the exemption filing process.
There are three pages to the exemption filing receipt:
1. Page 1 shows:
a. Applicant Name(s)
b. Parcel ID Number
c. Property Address
d. Exemptions which were applied for
e. Supporting documents which were not uploaded with the application
2. Page 2 shows:
a. What we accepts as a proof of Utility
b. Information as to what is needed for "First Responder" documentation
c. Advises if we do not receive all required documentation, the application will not be approved
d. Advises the exemption information for the respective parcel will be updated on the website when the application is approved (www.polkpa.org)
e. If we have any questions, an exemption specialist will contact the applicant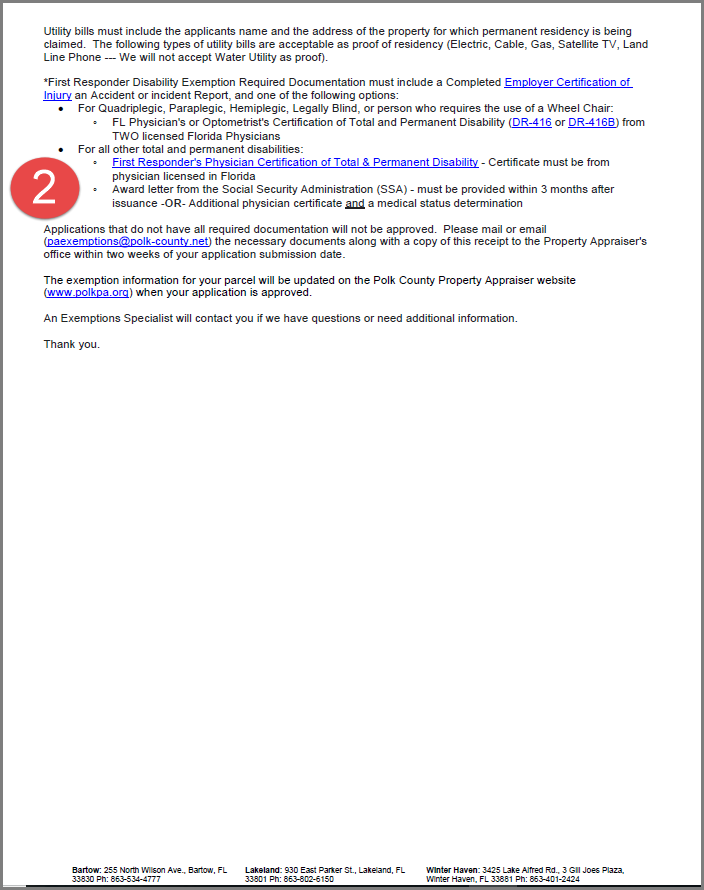 3. Page 3 shows a listing of Life Events which can affect exemptions and advises the property owner/applicant to contact us should any of these occur.